Diving Accidents
Have You Been in a Commercial Diving Accident in New Orleans?
All commercial divers and their loved ones know that diving is an inherently dangerous line of work. There are many variables involved in every dive, and often mistakes are made that lead to disastrous results. After a commercial diving accident occurs, divers can be severely injured or even killed. The families of the victim deserve justice for the loss of their loved one, and they deserve an attorney who will protect their rights after a commercial diving accident.
Request a free case review
Have You Been in a Diving Accident In New Orleans?
The attorneys and staff at Cueria Law Firm, L.L.C., are dedicated to making sure that families are taken care of and provided for in these situations. Commercial diving litigation is complicated, but we are experienced in the various issues that arise out of this type of litigation and will focus our attention on you. We have obtained favorable results for our clients who have been involved in a commercial diving accident. We will work hard for you and ensure that you receive the best legal representation possible.
Frequently Asked Questions
How Much Does An Attorney Cost?
You only pay if we win. If we don't get you financial recovery, we don't get paid.
Is There a Deadline for Filing an Accident Case?
Yes. Personal injury cases have various deadlines called the Statute of Limitations (SOL).
Do I Have to Go to Court for My Diving Accident?
In many cases, the answer is no. Our law firm gathers the facts and builds the evidence for your injury case.
What Should I Do After a Commercial Diving Accident in New Orleans?
· Most importantly, seek medical attention. Under maritime law, an injured diver has the right to choose their own medical providers.
· Maritime law and the Jones Act were written to protect your rights as a maritime worker. Contact an experienced maritime law attorney right away to protect your rights as a commercial diver.
· Retrieve any documents relating to the dive, decompression, recompression, and any on-site medical attention you received following your accident. The team at Cueria Law Firm will begin the investigation with these reports and begin building your case.
Other Frequently Asked Questions About Diving Accident Claims:
What Are My Rights After A Diving Accident?
The Jones Act provides that any seaman who shall suffer personal injury in a course of this employment may, at his election, maintain an action for damages at law. 46 U.S.C. & 688.
Under the Jones Act, a seaman's employer is responsible for any damages if the employer's negligence caused the seaman's injury.
Regarding the seaman status, it is well established that admiralty courts have applied this status to commercial divers. Therefore, to qualify as a seaman a commercial diver must meet the following requirements: (i) contribution to the function of the vessel or to the accomplishment of its mission and (ii) connection to a vessel in navigation (or to an identifiable group of vessels) that is substantial in terms of both its duration and its nature.
Regarding negligence, an employer's liability in a negligence action brought by an employee extends to all personal injuries arising during the course of the seaman's employment, but proof of negligence is essential to recovery.
Here, a dive company would have to perform some acts with reasonable care under like circumstances. If it does not, and its negligence causes damages, the dive company is responsible for the resulting damages.
Examples of diving company negligence include improper decompression tables or improper use of decompression tables, improper medical treatment or improper equipment, and inappropriate equipment.
Finally, it is also important to note that a commercial diver is obligated to act with ordinary prudence under the circumstances. A Commercial Dive and Maritime Lawyer would be familiar with the issues involved in these types of cases.
When you call Cueria Law Firm, LLC, our maritime accident attorney will review the facts of your case, using decades of experience with Jones Act cases, and determine the best strategy going forward. Once you partner with Cueria Law Firm, LLC, we will begin fighting for fair compensation for your commercial diving or maritime accident injury.
What Medical Problems are Common Among Divers?
Medical Problems Common to Divers
Barotrauma—this condition occurs when the air pocket of the middle ear is affected by pressure underwater. This medical issue causes pain and damage to the ear if the equalizing process is not completed correctly by the diver.
Nitrogen Narcosis—if nitrogen in the body of the diver becomes increased, it can create a narcotic effect. Judgment and sensory perception are affected.
Decompression Sickness—also known as the bends, this condition occurs when the pressure underwater increases and nitrogen in the body is also increased. A diver that moves to the surface too fast will see the pressure reduced, and the nitrogen causes bubbles in the body, which creates pain and even death in severe cases.
Oxygen Toxicity—when divers go below the 135-foot mark, this condition can occur. The underwater pressure increases, and the body takes on more oxygen. The extra oxygen at such depths can cause a nauseous feeling as well as seizures, losing consciousness or twitching, among other issues.
Divers must be adequately trained, and employers offer the needed training as well as quality equipment to ensure the diver stays safe while underwater. Divers should have their qualifications in order and be able to perform their work safely. A medical fitness certificate must also be obtained for the diver to be ready to work.
Divers need to follow all safety rules and practices when working. However, despite doing this, divers are still at risk. If you are a diver who has experienced a medical condition due to no fault of your own, such as involving faulty equipment or improper training, give our office a call today.
What are The Causes of Commercial Diving Accidents?
Some common causes of commercial diving accidents are discussed in detail below:
Poorly Maintained Equipment
Poorly maintained equipment is a leading cause of commercial diving accidents. It is the employer's responsibility to maintain its equipment in proper working order and to maintain logs and records reflecting when the equipment was tested or when maintenance was performed on the equipment. Certain equipment is essential to diver safety, including a diver's helmet, compressors, seals on dry suits, hose connections, and fittings. If this equipment is allowed to deteriorate, devastating accidents can occur.
Lack of Proper Employee Training
Lack of proper employee training is another reason that commercial diving accidents occur. Different types of commercial diving jobs involve different types and levels of training; however, safety training is necessary for all types of commercial diving. Untrained divers not only put themselves at risk but also put the team of divers they are working with at risk. You should never dive with an unable diver, and you should not be afraid to speak up if your employer is asking you to dive with divers who are not qualified. It is your employer's responsibility to hire divers who are qualified and adequately trained or to provide proper training to the divers.
Pressure Hazards
Pressure hazards are probably some of the most recognizable dangers associated with commercial diving and diving of any sort. Pressure hazards occur when the pressure differential that exists between the water pressure on one side of a structure (ex. a pipeline) and the other side of the structure is too great. Serious injuries can occur because of pressure differentials.
Underwater Fire
Underwater fire is a hazard associated with commercial diving, especially for those who work offshore in the oil and gas industry near oil and gas platforms and wells. However, any type of underwater burning, including welding, can cause a fire. Divers have been severely injured and killed because of explosions due to underwater fire.
General Job Hazards/Risks
There are many general risks and hazards associated with any type of diving and especially all types of commercial diving.
If you are a commercial diver, you should be aware of the risks and hazards associated with the job. Safety and training are of the utmost importance in this dangerous field. It is your employer's responsibility to maintain safety protocol and precautions and to make sure that all employees are qualified and adequately trained. Unfortunately, employers do not always do so.
What Is Your Employers Responsibility?
Training and Equipment Safety for Commercial Divers
Diver safety and equipment safety must be a top priority for companies that employ commercial divers to prevent commercial diving accidents from occurring. Unfortunately, divers often receive different levels of safety training based on their employers and the type of work.
Training requirements can vary depending on the job role. For specialty divers, it can be strenuous and thorough, yet be minimal to non-existent for jobs such as salvage divers, hull scrubbers, and seafood divers.
OSHA Regulations for Commercial Divers
There are OSHA regulations on driver training, qualifications, and safety, yet some companies do not follow OSHA regulations. This can lead to commercial divers who are injured or even killed.
When unqualified divers are allowed to dive without the proper certification and training, accidents happen. Often companies will try to cut corners to increase the size of their diving crews by hiring improperly qualified divers. That creates an unsafe work environment for the other divers on their team and puts everyone at risk.
Diving companies have a responsibility to their employees when it comes to safety and equipment. Employers are responsible for thoroughly training their employees to use the diving equipment required for their work duties. They are also responsible for the maintenance and care of diving equipment used by their employees. Lack of proper safety training and failure to maintain equipment in a commercial diving job can be disastrous.
Record Keeping For Commercial Divers
Also, diving companies must maintain detailed records of the maintenance and testing performed on all of the equipment. Commercial divers should be aware of the way their employer maintains its equipment, and of the level of training they receive from employers. Commercial diving is a dangerous occupation, but proper safety training and proper equipment maintenance can prevent many diving accidents.
Commercial Diving Equipment Manufacturers
Equipment Manufacturers may be held responsible for diving accidents, as well as commercial diving employers. Some diving accidents can happen due to the manufacturer's negligence in manufacturing or producing diving equipment. That is where the expertise of Cueria Law Firm, LLC can help you determine what your rights are and the compensation that you may be entitled to.
The attorneys at Cueria Law Firm, LLC, are qualified to help if you have been injured in a commercial diving accident. We can investigate your accident and determine who is at fault. It is your employer's responsibility to follow diving regulations and maintain a safe work environment for commercial divers. The manufacturer must make sure the diving equipment it manufactures is secure and free of a defect when it is placed into the stream of commerce. If you believe you have a claim for compensation, please give us a call at 504-684-5463.
What are The Types of Commercial Divers?
There are many different types of commercial divers. Types of commercial divers include offshore divers, scientific divers, public safety divers including police and fire rescue divers, military divers, HAZMAT divers, nuclear divers, construction divers, salvage divers, seafood divers, hull scrubbers, and numerous others. These divers have various duties and skills associated with their respective lines of work. However, all types of commercial divers face similar dangers associated with the inherent dangers of their profession.
Offshore Divers
Offshore divers are the most common type of commercial diver and they often work in the oil and gas industry. Most commercial divers begin their careers as commercial divers in the oil and gas industry. These jobs allow divers to earn a good living, but the hours are long and the schedules are irregular with seasonal work and long periods of work time and off time. Offshore divers often live on oil platforms or vessels while they are working and they are often considered Jones Act Seaman.
Scientific Divers
Scientific divers conduct scientific studies underwater which include collecting data and conducting scientific testing underwater. They are often highly trained professionals who work both offshore and inland.
Public Safety Divers
Public safety divers include police divers, fire divers, and rescue divers. Police divers often assist in conducting investigations of evidence that may be underwater and in recovery of that evidence. Fire divers assist in diving accidents and water rescue. Rescue divers also assist in diving accidents and in water rescue.
Military Divers
Military divers, who are often part of the naval forces, conduct military missions under water. These missions often involve dangerous elements using military tactics. Military divers are also responsible for performing maintenance on military vessels underwater. Military divers often develop the skills they learned in the military into a career in other commercial diving professions.
HAZMAT Divers
HAZMAT divers often work under very dangerous conditions and they are considered highly skilled and experienced divers. They also dive in polluted areas where there are chemicals and other hazardous materials in the water. HAZMAT divers must take precautionary measures including wearing special equipment when they dive in order to prevent contamination.
Nuclear Divers
Nuclear divers, like HAZMAT divers, are constantly working in dangerous conditions. They are most often diving in areas of water contaminated with nuclear waste and radiation. Nuclear divers have to take extra precautionary measures because of the hazardous areas where they dive.
Construction Divers
Construction divers are responsible for many types of underwater work and they work in many different areas both offshore and inland. Construction divers frame and place concrete, erect steel, operate heavy equipment such as cranes, work with rigging, and much more. Their jobs are highly skilled and often dangerous.
Salvage Divers
Salvage divers dive all over the world to recover numerous things lost at sea including vessels or parts of vessels, cargo, aircrafts and other vehicles, and many other structures. Salvaged divers also conduct investigations of wrecks and other objects.
Dysbarism is a result of rapid pressure changes and can cause adverse side effects in commercial divers. The US Occupational Safety and Health Administration (OSHA) states that these effects include gas narcosis, gas toxicities, pain, decompression sickness, and dysbaric osteonecrosis.
Gas narcosis and gas toxicities are a result of hyperbaric conditions, with narcosis caused by nitrogen dissolving into nervous tissue and toxicities caused by extended oxygen and carbon dioxide brain or lung exposure. Symptoms of these issues can result in a slowing of reflexes, drowsiness, confusion and other side effects.
Pain, decompression sickness and dysbaric osteonecrosis are a result of rapid pressure changes. Divers may experience serious pain in their digestive tract, sinuses, teeth, middle ear, and lungs from the expansion or contraction of trapped gas. While decompression sickness, the most well-known version of all dysbarism, can result in pain in your muscles and joints, as well as neurological symptoms or coughing and shortness of breath. Dysbaric osteonecrosis, on the other hand, results in bone lesions and can be a chronic condition for divers.
Commercial divers that are affected by dysbarism should get the help that they deserve. Receiving important medical attention is key to a diver's recovery. A company that employs commercial divers should also be sure that they are operating in the safest way possible. If you think your company put you at risk of health hazards due to negligent operations, you should be sure to hold them accountable.
The maritime lawyers at Cueria Law Firm will give you the best representation possible. If you didn't receive the correct medical attention after being affected by dysbarism, then your company is responsible for your current health issues. By working with the Cueria team, you'll get the maritime knowledge that you need. Using their decades of experience in maritime law, our lawyers will take care of the complicated process of bringing your case to court.
If your commercial diving led to dysbarism, please call a New Orleans maritime lawyer for a free consultation at 800-899-7102.
What Are The Common Hazards of Commercial Diving?
There are several hazards when it comes to diving professionally. Many are commonly known, such as the threat of drowning while diving. Diving equipment that is defective and creatures in the sea can cause accidents during a dive. A big danger involved with diving happens when the individual suffers from a medical issue when proper safety procedures are not followed correctly. Without proper training, divers can develop a medical condition in relation to their employment.
Common medical conditions that can occur include Barotrauma, Nitrogen Narcosis, and Decompression Sickness. With Barotrauma, the pressure underwater creates severe pain as it affects an air pocket within the middle ear. Damage can be caused if the diver does not equalize properly. With Nitrogen Narcosis, the diver's body is affected by an increase in nitrogen. This can have a narcotic effect and impair judgment as well as sensory perception.
With decompression sickness, the individual is affected by increased underwater pressure. Also known as the bends, the body will absorb an increased amount of nitrogen due to the pressure. If the diver were to reach the surface too soon, the pressure will reduce suddenly, and the nitrogen will create bubbles in the body which will create pain, even paralysis or death in severe cases.
When divers are not properly trained, they will suffer from severe medical issues like decompression sickness or Barotrauma. Employers of divers must provide quality training as well as have safety procedures that are enforced as well as maintain equipment and take preventative measures to ensure every employee will be safe while diving.
Safety for Commercial Divers
An employer of commercial divers must ensure that diving regulations are followed, and that best practices are created to lower the risks associated with diving. A dive team must be trained in every area of the job, be provided the necessary tools as well as learn any safety procedures so they are prepared to work safely. To improve the safety of divers, employers will need to follow the Diving at Work Regulations.
By adhering to Diving at Work Regulations, companies will ensure that all divers are qualified, are able to work safely, and have a certificate of medical fitness to dive. However, even when these protocols are implemented, accidents can occur. Any company providing diving employment should do everything they can to reduce the risk of injury as well as provide divers with the right tools for safety.
What Laws Apply to Drowning Deaths?
In the US, the fifth leading cause of unintentional injury death is drowning. Unfortunately, around 3,000 deaths take place each year across the nation due to drowning with children ages 1 to 4 being the most affected. When looking at children ages 1 to 14, drowning is considered the second leading cause of death. Parents are protective of their children and will keep a sharp eye out when at the swimming pool. However, despite vigilance, drownings still occur.
If you or someone you know as suffered a loss due to a swimming pool accident or drowning, it is a devastating occurrence. There are no words that can be used to help you feel less pain or sorrow due to the loss of a loved one. At Cueria Law Firm, we can help New Orleans residents by providing legal action. If someone was responsible for the incident due to negligence or their actions, you might have a case. Let our attorneys hear your story and help in any way we can.
Virginia Graeme Baker Pool & Spa Safety Act
Passed in 2007, the Virginia Graeme Baker Pool & Spa Safety Act is a law that applies to the nation regarding pool and spa safety. The law requires that owns of swimming pools maintain basic safety to protect others. Drain covers must be installed to protect anyone from being caught underwater.
Legal action can be taken based on other laws and regulations, including product liability, premises liability, or attractive nuisance law. With product liability, a defective pool gate, safety gear, or another component can be cause for compensation due to drowning death. With premises liability, the manager or owner of a property must keep the swimming pool area safe and secure. In regards to attractive nuisance, a property owner is liable if their land has an ungated pool, as children can be attracted to the area and become injured or drown.
If you or a family member have lost a loved one due to drowning, we are here to help. Let our Louisiana attorneys provide a consultation to review your case. If you have a compensation claim, we will help build your case with concrete evidence and facts to receive just compensation for your loss. Negligent behavior and irresponsible acts of others should result in being held accountable for your loss.
Contact our Personal Injury Attorneys today to schedule an appointment or to learn more about your options when dealing with unintentional injury death from drowning.
What Will An Attorney Do To Help My Case?
At Cueria Law Firm, LLC, our maritime accident attorney will evaluate factors surrounding your case. We determine how much compensation is fair to you based upon your injury and the governing laws.
Some of these factors include:
· Location of injury
· Type of vessel
· Your relationship to the vessel
Negligence Factors
The absence of upkeep to equipment, inadequate staffing, and not providing enough training to employees is considered owner negligence. The Jones Act and the Harbor Workers' Compensation Act both hold the owner liable for any negligence that results in an injury to an employee on the job.
Some examples of owner negligence that could result in injury are:
· Inaccurate dive table
· Repetitive diving
· Improper gas mixtures
· Improper decompression
· Rapidly ascending
Recovering From Your Injury
Employers will send you to a company doctor to get checked out immediately following your injury. You also have the right to refuse to sign paperwork from an insurance adjuster of the company. You may be visited while in the hospital by the company insurance adjuster and asked to sign paperwork. Do not sign anything without discussing it with a legal representative first. Contact us right away at Cueria Law Firm, LLC, to evaluate your case.
The first step we take to help with your recovery is to schedule for you to meet with an objective medical provider. Our office works with local medical providers, including chiropractors, neurologists, and MRI technicians who allow us to guarantee the costs of your treatment. It takes the stress off of you and allows you to focus on recovering physically, mentally, and emotionally while we handle your case.
Call Us Today!
Here at Cueria Law Firm, LLC, we boast decades of experience in commercial diving cases. We will be able to assess your situation and determine the right course of recovery and how much compensation is fair for you. Our personalized process will always keep your best interests first, and allow you to focus on healing from the injury suffered on the job. Fill out a consultation form today so we can fight to get you fair compensation in your healing process.
Do you or a member of your family have a claim? Contact us or call us at 504-684-5463.
More Information on Diving Accidents: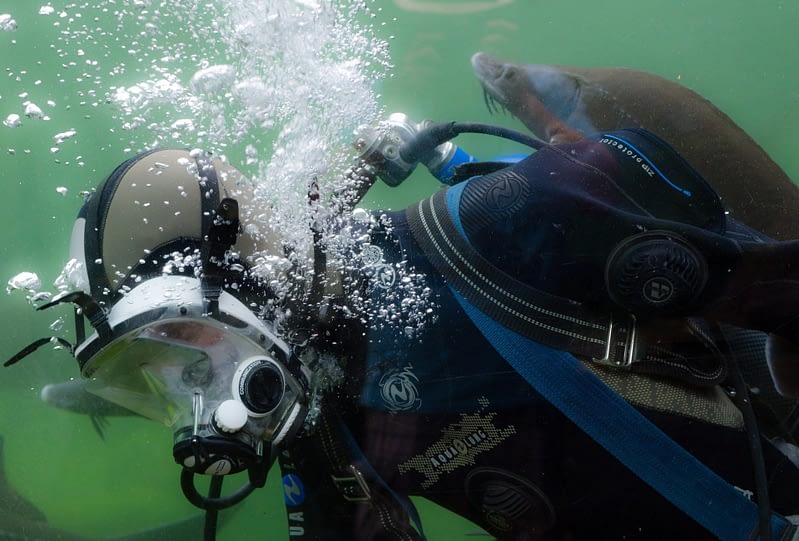 FREE INFORMATIONAL GUIDE
Contact Us
Request a free case review
No pressure. Speak to an attorney. No hidden fees.